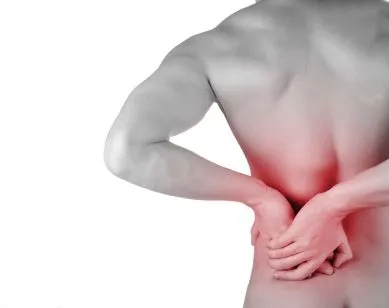 Pain can arise from structures that are within the hip joint or from structures surrounding the hip. The hip joint is a potential space, meaning that there is a minimal amount of fluid inside it to allow the femoral head to glide in the socket of the acetabulum. Any illness or injury that causes inflammation will cause this space to fill with fluid or blood, which stretches the hip capsule and results in pain.
Movement at the hip joint is possible due to the muscles that surround the hip and their tendons that attach across the hip joint, allowing motion in different directions. Aside from controlling movement, these muscles act in concert to maintain joint stability. There are large bursas (closed fluid-filled sacs) that surround areas of the hip and allow the muscles and tendons to glide more easily over bony prominences. Any of these structures can become inflamed.
Pain from other sources can be referred to the hip, meaning that while the hip hurts, the problem may potentially originate elsewhere. Inflammation of the sciatic nerve as it arises from the spinal cord in the back can cause hip pain, especially if the L1 or L2 nerve roots are involved.
Chiropractic care is a great treatment for hip pain. Call the office now to start your consultation.